This initiative ran June 18, 2020 through October 31, 2020.
Downtown City Park Dining Presented by JUSTIN
In response to California mandates to prevent the spread of COVID-19, Paso pivoted to support its downtown restaurants, wineries and businesses. A section of the iconic Downtown Paso City Park was transformed into a safe al fresco dining experience, complete with private farmhouse style tables, a sanitation team and host, and bistro lighting.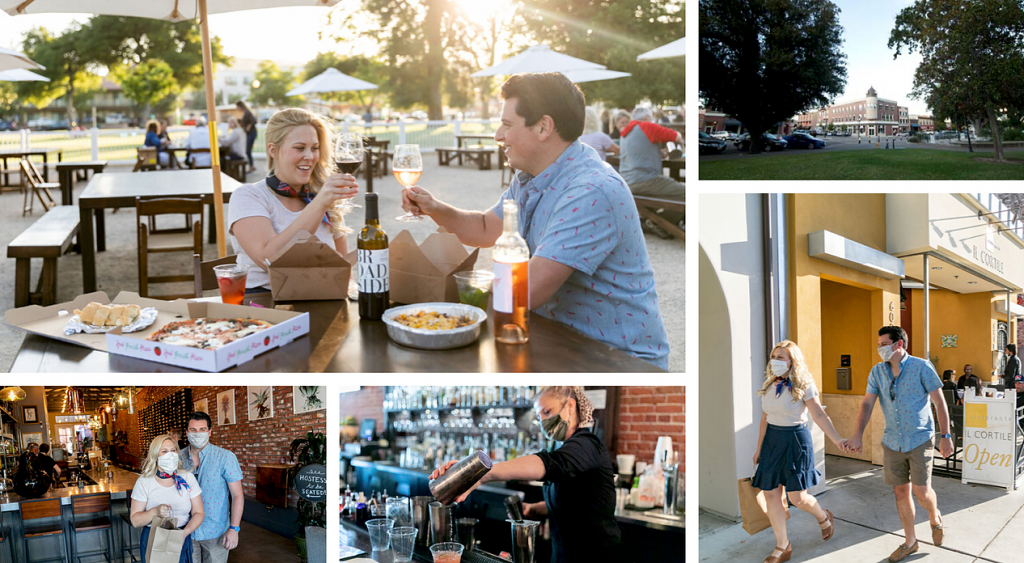 Open June 18 – October 31, the free alfresco dining section safely hosted 7,040 local diners, supported 43 restaurants, won the praise of Forbes Magazine and served as a model for other successful programs.
Thank you to all of the diners who supported our local community. We love Paso!
The idea for our "Dining in the Park" program was sparked from several roundtables that we conducted in April. These roundtables were held to discuss reopening strategies and to assess the COVID impacts on our restaurant sector.
Our goal was to encourage locals and visitors to support our restaurants in a safe and enjoyable way. Supporting and promoting the usage of takeout services was determined to be the optimal way to keep our businesses thriving. We began working alongside our community partners and submitted the proposal to our city council on May 19, which was immediately approved.
After ordering takeout and beverages from local businesses to take to the reserved Downtown City Park seating area, guests were met by a concierge who guided them to their own sanitized table. With comfy seating and overhead bistro lights, the safely-distanced space provided the perfect ambiance for a special date night or get-together with family.