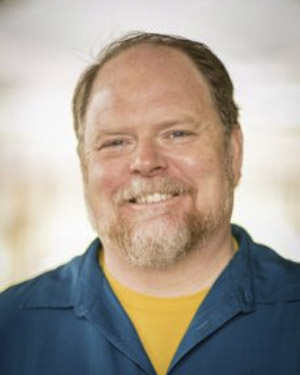 "What I enjoy most about this position is that it allows me to be a part of this community in a unique way… it allows me to make relationships, connect people in our community and help find solutions to move us forward into the future."

– Jeff Railsback, Membership Coordinator
Thrilled to officially have his own business, a young entrepreneur walked out of the bank, freshly printed temporary checks in hand. He immediately directed his steps to a quaint, historic building where he wrote his first business check. It read, "To the order of Paso Robles Chamber of Commerce".
With a rich, chamber-centric history, Jeff Railsback entered the Chamber world once more.
"It was just how you did business," Jeff said. "That value of the relationship between the Chamber and the business community was instilled in me as a very young man and it continued once I opened my own business… For a new business or start-up business, there is no more cost-effective way to get your brand out there than joining and working with the Chamber, it's not even close."

Jeff's parents were involved with the Chamber back in the 1970's and his father, Ed Railsback, was once Chairman of the Board of Directors. Jeff remembers playing underneath the tables at board meetings when he was a young child and being volunteered for his time and service for every Chamber event as he grew older.
While operating his insurance agency and running various nonprofits as an adult, Jeff turned to the Chamber often,
"When I needed something, like a business connection, it was the Chamber I thought of. When I needed to advertise an event for a nonprofit, it was the Chamber I thought of. If I needed support finding someone who could help with a certain aspect of my business, it was the Chamber that we reached out to because they had those relationships. It is the Chamber's job to help make those connections. It has always been a hugely valuable service, and now I'm the one who gets to make those connections, so that's a lot of fun," he said.
Born and raised in Paso Robles, Jeff provides an immense care and understanding of our town's rich history and our community's home-town pride. He watched as more and more wineries found their home in Paso Robles and observed how the work of organizations like the Chamber and the Mainstreet Association revitalized the downtown.
"It really transformed this community. These organizations showed us what Paso businesses could be. That smartly directed growth found a way for our businesses to flourish and serve our community."
With professional excellence and deep connection to our locals, Jeff is now our membership extraordinaire. Jeff enjoys the opportunity that working at the Chamber gives him to network with local businesses and assist in addressing their needs.
"My job at the Chamber puts me in a very unique position where I get to focus on my town and help make these connections while supporting the leaders who drive businesses in this town. I find it very rewarding. I get a lot of joy and pride out of my job because I love to serve," he said.
Jeff now has a family of his own residing in Paso Robles and we can only hope that the Railsback family tradition of Chamber involvement will continue to grow!
Jeff challenges you to open your minds to what the Chamber is and what it could be for you,
"We understand that the Chamber of tomorrow is going to look a lot different than the Chamber of yesterday. What role are we going to serve? We need to know how to best support all of our business community. Together, we are stronger. We have a voice."
We are constantly amazed at the detailed and driven work from Jeff and cannot wait to see how it will impact the future of the Chamber. Thank you for all you do, Jeff!