Learn more about Paso Robles' wonderful light & entertainment display:
It's official – popular Field of Light at Sensorio is here to stay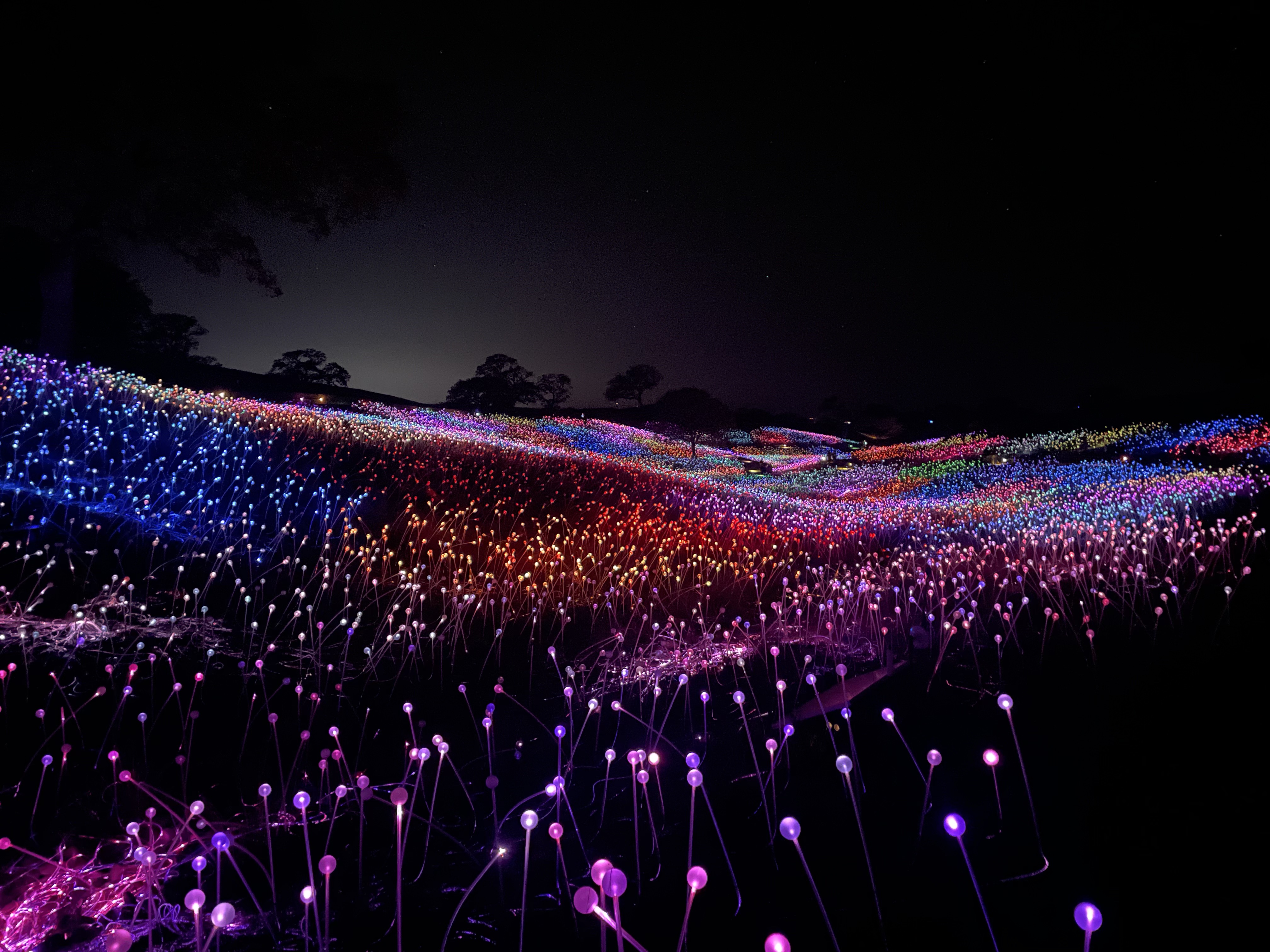 Field of Light at Sensorio began as a temporary art installation – now it's here for good.
From the imagination of internationally acclaimed artist Bruce Munro: Light at Sensorio – 4380 Highway 46 East– has enticed millions across the world to travel across continents to see its beauty.
The City of Paso Robles was lucky enough to land the largest installation yet.
Light at Sensorio includes both Field of Light and new Light Towers. Field of Light at Sensorio features more than 58,800 fiber optic-lit stemmed spheres illuminating the landscape in blooms of morphing color. The Light Towers celebrate Paso's "extensive wine country environs." Light Towers features illuminated, 6-foot tall towers encompassing more than 17,000 wine bottles transformed with optic fibers that transform before an enchanting musical score.
First installed in 2019 with help from local volunteers, Field of Light Paso Robles was introduced to us by the brains behind Sensorio. More than 58,000 lights come to life over 15 acres, and the creators and caretakers have stayed true to their devotion to overwhelming us with beauty and awe.
The year 2021 may have brought us shutdowns amidst COVID-19, but it also brought us expansions of the exhibit including musical accompaniment and light towers.
Chamber, Visitor Center see boosted visitor interest in Sensorio
Paso Robles Chamber of Commerce and Visitor Center staff have met people from as close as Arizona and as far away as Australia – all coming to see Bruce Munro: Field of Light and compare it to what they've seen in their hometowns. Our rolling hills are the prefect canvas for this breathtaking exhibit, and we're proud to include them in our recommendations for "must see" places in Paso Robles. Celebrating Paso Robles has always been our goal at the Chamber. We're excited to see the upcoming changes at Sensorio, including a convention center and additional art exhibits.
As its name suggests, it truly is an experience for your senses.
More information
For more information, see www.sensoriopaso.com or contact us at www.pasorobleschamber.com. Better yet, come by and see us at 1225 Park Street, Paso Robles, CA 93446.